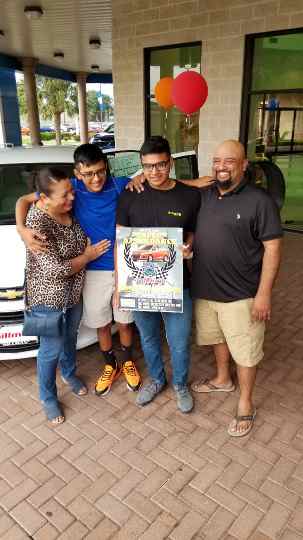 Not long ago, we encouraged high school students grades 10th-12th to strive for perfect attendance in order qualify to win during our then-upcoming Drive for Attendance Event. We told you that qualifying students would have a chance to win some great prizes during this year's event, including one of the Chevy cars in our new car inventory, a 13" MacBook Pro, an iPad Mini, a Samsung Galaxy Tablet, and five gift cards. This year's prize pool amounted to $20,000 in free gifts given to Harlingen-area high school students who had perfect attendance in school.
We had a great turnout for this year's Drive for Attendance Event, which made it even more special to announce that 16-year-old Ricy Rivera won the grand prize, a 2019 Chevrolet Sonic. Upon learning he'd won, Rivera humbly credited his parents with instilling the importance of attending school in him.
This is the sixth consecutive year that Gillman Auto Group of the Rio Grande Valley has teamed up with Harlingen CISD for the Drive for Perfect Attendance Event. Attendance in school is a critical factor that's tracked by the Texas Education Agency to determine how much funding schools near our Harlingen, TX Chevy dealership will receive. For each student in class during the monitored periods, Harlingen CISD gets about $5,500.
"Gillman Chevrolet is proud to be the founding sponsor of the Drive for Attendance Event," said Gillman Chevrolet General Manager David Amaya. "The program provides an opportunity to give back to the community while giving HCISD a program that generates additional income to educate our students through a program that encourages excellent attendance."
Whether you want to buy or lease one of our Chevy trucks or cars, you need parts or service, or you want an auto loan or lease, you can feel great whenever you do business with Gillman Chevrolet Harlingen. That's because we share your commitment to education, year in and year out.