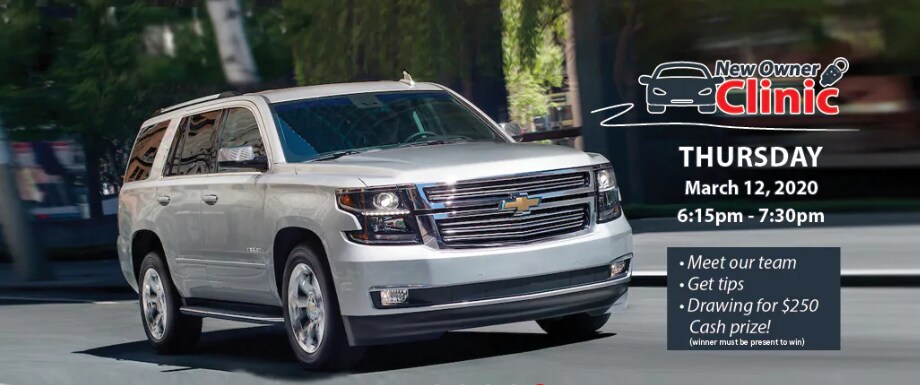 ?
Have you recently purchased a new Chevy car, SUV, or truck? Do you have questions about your new vehicle? Or are you interested in connecting with the team at our Chevy dealership in Harlingen, TX and other new Chevy vehicle owners like you? We have a great opportunity for you to do and experience all of that at one fun-filled and informative event! Join us for our next New Owner's Clinic on March 12, 2020, to mingle, win prizes, and learn more about your new Chevy model.
New Owner's Clinic: 3/12/20
From time to time, your local Texas Chevy dealers hold New Owner's Clinic events to bring the community together and invite you to get to know our Chevy dealership family.
Our next event will be held on March 12, 2020, at our Chevy dealership in Harlingen, from 6:15 p.m. to 8:00 p.m. Here's a sample of what's in store for you that evening if you attend:
Free refreshments
Entrance into our cash prize drawing for the evening
Tips and tricks that pertain specifically to your new Chevy vehicle
A chance to meet and get to know our friendly dealership staff
RSVP Today!
Are you free on Thursday, March 12? Then give our staff a call to RSVP for the event and mark your calendar. Don't forget to bring any questions with you about your new Chevy truck or SUV. We want to send you home with all of the answers and advice you need to begin a rewarding new car ownership journey.
We look forward to seeing you and getting to know you better at the next New Owner's Clinic at Gillman Chevrolet Harlingen on 3/12/20!