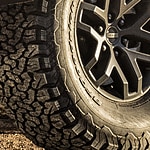 If you drive a truck or an SUV, then you may want to consider off-road adventures. But how do you get started? Here are two places that can help you enjoy your first off-road driving trips.
Automaker Clubs

Top automakers that sell trucks and SUVs often hold off-road events around the country. Chances are, you can find an automaker run event in the Harlingen area. This is a great place to start since you can off-road your vehicle in an organized environment.

Off-Road Equipment Shops

?You can find several off-road specialty shops in the Harlingen area. These places are great to find knowledgeable people who will know a lot about off-road driving in the area.
You can also get started by visiting Gillman Chevrolet Harlingen. We have top off-road equipment and parts that can make your truck or SUV off-road ready. Take a look at our inventory today.