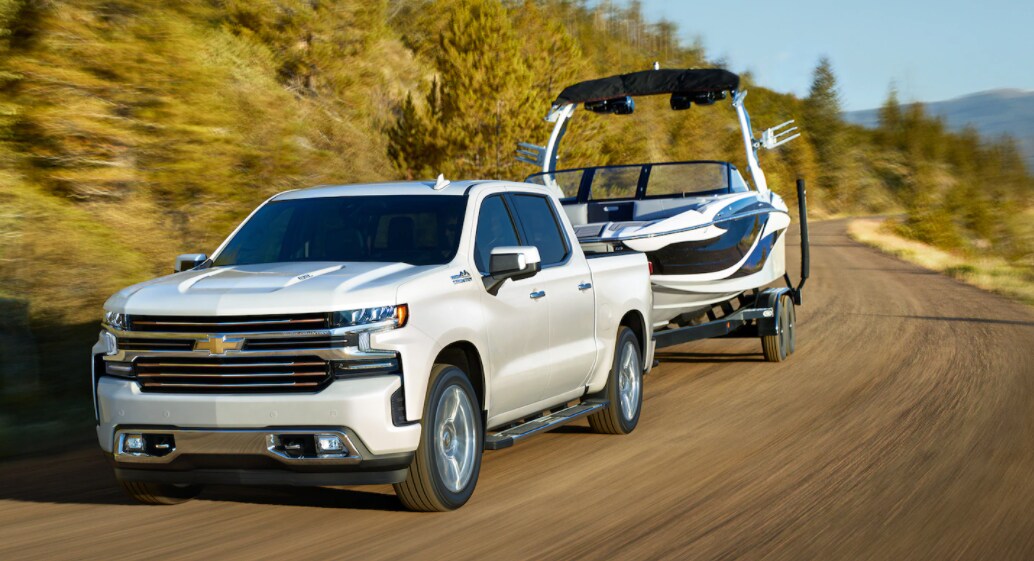 One of the primary reasons people choose to purchase the Chevy Silverado, whether it's the 1500, 2500HD, or 3500HD model, is the impressive towing capacity. People who purchase heavy-duty pickup trucks such as these often intend to tow things like boats, trailers, and RVs, and they require a truck that can carry the load. Here at Gillman Chevrolet Harlingen, we carry all three types of Chevy Silverado truck, and we are happy to say that they are all capable of towing a large amount of weight.
2020 Chevrolet Silverado 1500 Towing Capacity
The 2020 Chevrolet Silverado 1500 is the smallest truck in the Silverado lineup, but it's no slouch when it comes to towing capacity. In fact, it's the strongest Silverado 1500 ever, and it comes with your choice of six different engines. The base engine is a 3.0-liter Duramax Turbo-Diesel that cranks out 277 horsepower and 460 lb-ft of torque. This leads to a maximum towing capability of 9,300 pounds. If you require even more, you can upgrade to the massive 6.2-liter EcoTec3 V8 with Dynamic Fuel Management, which has a maximum towing capacity of 13,400 pounds.
2020 Chevrolet Silverado 2500HD and 3500HD Towing Capacity
Upgrading to the larger 2020 Chevrolet Silverado 2500HD gives you even more towing capacity. This heavy-duty pickup truck has an impressive maximum towing capability of up to 18,150 pounds, thanks to the V8 engine. If that's not enough, you can go even bigger with the 2020 Chevrolet Silverado 3500HD. This truck features what's known as gooseneck towing, which allows you to tow up to 35,500 pounds.
No matter which highly-capable pickup truck you would like to test drive, you can do so right here at Gillman Chevrolet Harlingen.