Some jobs in life simply require a tough truck, and that's where the 2022 Chevrolet Silverado HD trucks have the chance to shine. The Chevrolet Heavy Duty trucks include the Chevy Silverado 2500 and the Chevy Silverado 3500. We'll walk you through some of the capabilities and features of both of these models that earn them the Heavy Duty title.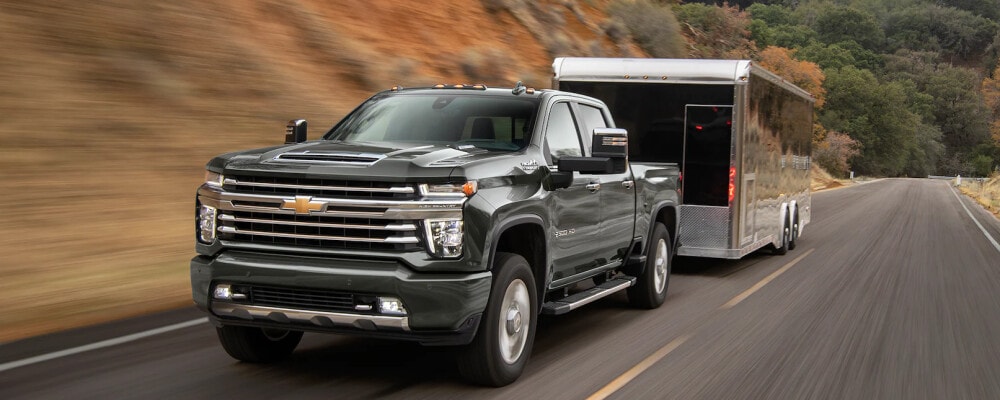 Astonishing Abilities 
You're guaranteed strength and power no matter which one of the Chevy Silverado HD trucks you choose. All models give you the ability to tow large loads ranging from small trailers to big boats so you can customize your truck depending on the tasks and adventures you do most:
2022 Chevrolet Silverado 2500 HD 
Max Avail. Trailering: 18,510 lb 
Max Avail. Torque: 910 lb-ft
2022 Chevrolet Silverado 3500 HD 
Max Avail. Trailering: 36,000 lb 
Max Avail. Torque: 910 lb-ft 
Every Chevy Silverado HD truck can also be upgraded to include four-wheel drive. That way, you'll be able to take on even the most challenging off-road expeditions.
Tow Big 
When you've got a big towing task to handle, the Chevrolet Silverado HD trucks at our Chevrolet dealership have got you covered. First off, you can add up to 15 high-definition cameras all around your vehicle so that you're always aware of your surroundings. There's also an available Advanced Trailering System that you can use to make customized trailer profiles depending on the load you're carrying. It's important to keep your eyes on the road when making a haul, so the heavy duty trucks also offer a 15-inch diagonal Head-Up Display. 
Purchasing a 2022 Chevrolet Silverado HD Truck
Now that you're more familiar with the Chevrolet Silverado HD trucks, it's time for you to get a feel for them yourself. One of our Chevy dealers here at Gillman Chevrolet Harlingen can set you up with a test drive the next time you visit.
The following step to making one of these trucks your own is to make your way to our Chevy finance center. One of our specialized staff members will work with you and your budget to find the perfect financing option for your lifestyle.
Whether you're committed to a 2022 Chevy Silverado HD truck or one of the other new Chevy cars on our lot, we are here to get you your perfect vehicle. Come in today with any further questions you may have about anything Chevy related. We're eager to help!